Copyright,Privacy and other Matters
In this chapter, I want to very briefly talk about some very important matters: copyright, privacy and Deepfakes. At the time of publishing this page, several new developments (partnerships, lawsuits, disputes) have taken place in the AI Image generation space. This page will be updated shortly to mention some of the noteworthy issues as on 13 Feb '23.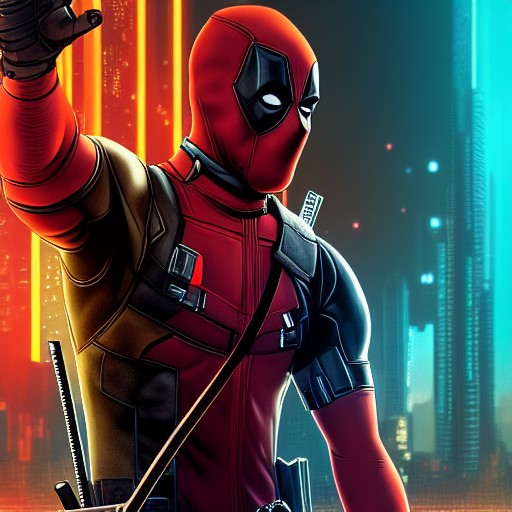 Would you consider this AI generated fan art or use of a copyrighted artwork without permission?
#Copyright issues
The matter of copyright is something that I covered in a previous chapter, but I wanted to dedicate a separate section or a small chapter to this all important issue. I am not a legal eagle, or adept with Copyright laws. But I am a big supporter, user and proponent of the Creative Commons philosophy. That is also the reason I have clearly mentioned that majority of the images on this site (or soon to be published book) are all under Creative Commons license as well. 
#Images similar to Stock Photos
When someone tells you the line
"image of a smiling elderly white man with grey beard holding a laptop" which is the first image that comes to your mind?
Chances are, it will be the following image:  "Happy Senior Man Giving Thumb Up Stock Photo 73143208 - Shutterstock"
I am not posting the image itself because of obvious reasons. Now, let us say we use AI image generation to get a similar effect. Except, I opt for diversity. We would get images that look like below. I merely added the ethnicity in between the words "elderly man" in each case. Below is the result. And since a picture is worth a thousand words, I leave this topic at this stage (hint: the possibilities are endless).
Image of a smiling elderly white Masai / Aussie / Arab/ Hopi / Mongoloid man with grey beard holding a laptop. 
or its extension, as provided by Prompt-Extend
Image of a smiling elderly Polynesian man with grey beard, sitting on a chair and working on a laptop, 4 k photograph, film still, 85mm, award winning photo, highly detailed, depth of field, studio lighting, charming
| | |
| --- | --- |
| | |
| Masai | Aussie |
| | |
| Arab Man | Mongoloid |
| | |
| South Indian | Polynesian |
#Deepfake Detection
AI images can also be (mis-)used for creating "deep fakes " that can be used to create images for revenge porn, celebrity nudes etc. Software such as DeepFaceLab for this. Like every technology, there can be alternative uses which may not be what the developers or scientists intended. (Thanks to @ympker on LowEndSpirit for suggestion to add a note about DeepFakes)
Ongoing legal disputes
This section will be updated shortly, with the updates (as on 13 Feb '23) about the legal disputes between Stable Diffusion and Getty Images, as well as other similar lawsuits.
Partnerships and agreements With each new technology, there comes uncertainty, anxiety, and opposition. At the same time, there arises tremendous opportunity for new ventures and partnerships. For example Stock image site Shutterstock entered into a partnership with OpenAI for what they refer to as "Ethical AI Image generation".